Boothbay Region Land Trust
We are very proud of the fact that we are a preferred lodging partner for the Coastal Maine Botanical Gardens and The Boothbay Region Land Trust has now also recognized that environmental commitment and named us their hospitality conservation partner.
Founded in 1980, Boothbay Region Land Trust (BRLT) is a non-profit organization working to conserve the natural beauty and character of the Boothbay region including the towns of Boothbay, Boothbay Harbor, Edgecomb, and Southport. They work with towns, land owners, residents, visitors and neighboring land trusts to conserve and steward the land.
Spruce Point is pleased to offer 30 miles of spectacular hiking and birding trails through the Land Trust. Some of the preeserves are available by water aboard private charter or SPI motor launch.
Printer Friendly Hiking Maps and Information: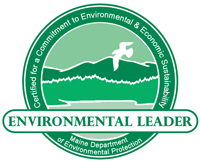 Keeping the "green" in Spruce Point
Spruce Point Inn covers 57 acres of woods and waterfront, and actively conserving and protecting those beautiful places is a critical part of our responsibility. We love to introduce our guests to the natural environment of Maine and each time someone comments on our incredible location we are rededicated to ensuring Spruce Point remains a legacy for future generations. We know that what we do at Spruce Point affects our corner of the coast, the land that surrounds us and the ocean beyond.
The environment is not just an attraction here at Spruce Point. The commitment is sincere. Spruce Point Inn sought and received Maine Department of Environmental Protection "Environmental Leader" accreditation in 2006 and is now listed on the Maine Department of Tourism's website as a "green lodging partner."